The architects managed to build a modern house between  vertical trunks of the pine trees. It looks great, but how to deal with the area around the house? How to reconcile the grey bark, pine cones and pine needles falling from the tall pine trees with a lovely manicured lawn, which was a dream of the owner. Certainly, the falling leaves and pine cones  have their charm but it is unlikely to be nice to walk on the grass full of cones. Finally keeping the leaves and needles out of the lawn is a challenging task.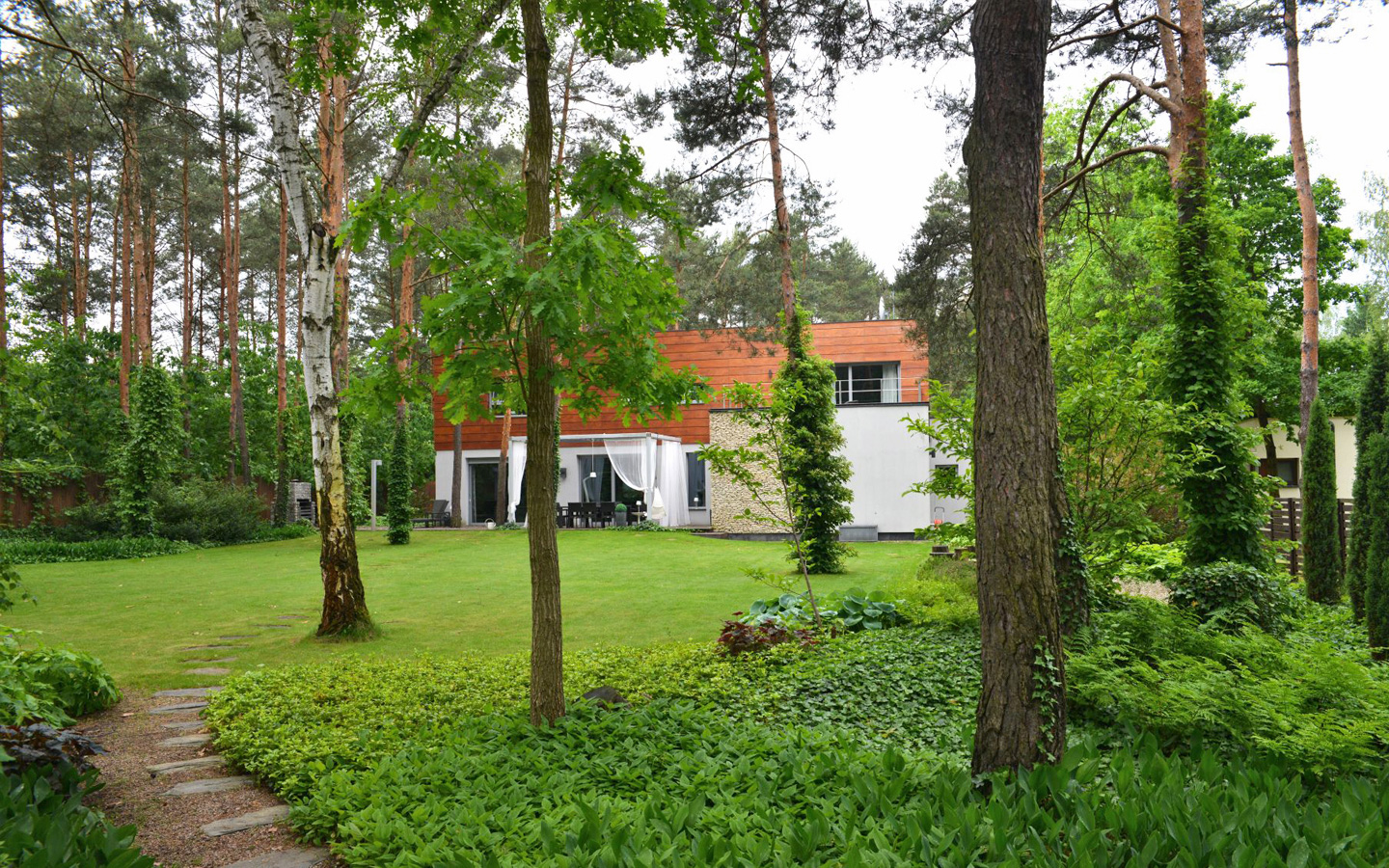 While creating a forest garden the easiest option is to leave a natural, wild corner. When you decideto leave a part of the land in its natural state you should think about it before the construction starts. Building works can damage natural mulch. Who has ever built, even a summer house, knows what I'm writing about. So let's imagine that we have our safe, wild area properly secured.  We can now successfully introduce several species which  grow in our forests like: foxgloves, lilies of the valley,ferns and heathers (if soil is good).
The forest garden is also planted with   perennials and shrubs. The choice of the species is so extensive that you are able to create a naturalistic garden design which would change through the seasons. The natural–looking plants like hydrangeas, euonymus, Ligularia, Aruncus when planted in large groups will beautifully match to the modern building.
Thevines planted around tree trunks after a few years will create "green" column that during the winter will be colourful. The species which work well are: white flowering climbing hydrangea becoming yellow in autumn, Parthenocissus assuming the reddish fall colour and evergreen ivy.
The most important feature of  every garden is of course joy from its use and how do you feel about it.. How to improve it? Some comfortable places to sit and eat  both in shade and sun areas are the best and easiest solution. It is such a pleasure to savour a dinner with friends in a beautiful surrounding isn`t it? In our quite rainy climate it is good to have such a place under a roof. . This can be a large terrace or a simple wooden gazebo. All of course depends on the house and needs of the owners. They determine what elements are needed in the garden and how large they should be.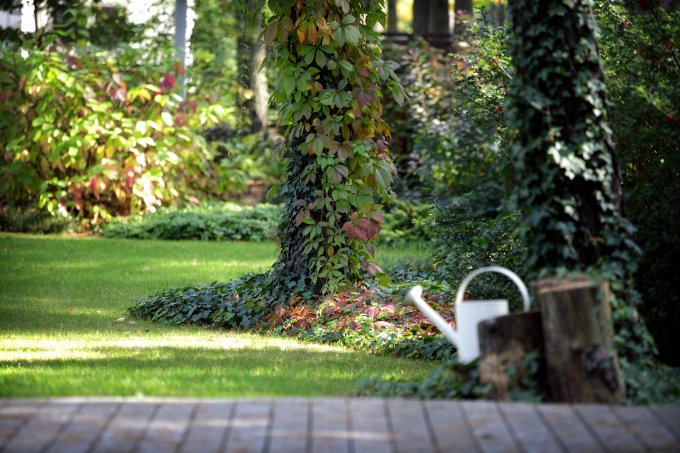 If you have  children you should consider to arrange a playground. We can then slightly reduce the most time-consuming part of the garden which is the lawn. It may seem that the lawn is the least challenging part of the garden and it is exactly the opposite.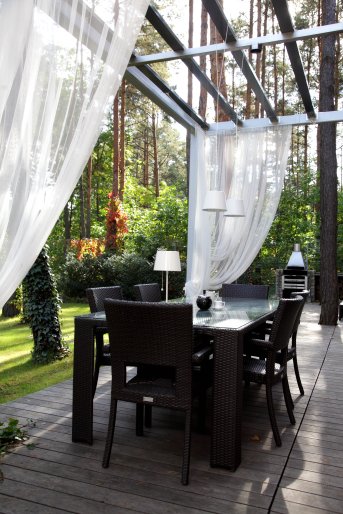 Existing trees shade the lawn and falling leaves or needles require frequent raking, lawn must be regularly mow, fertilize and aerate if necessary, not to mention  watering. In order to enjoy forest garden and avoid to spending  all  time on his care, it is good to plan a large terrace, not a large lawn, reserve a lot of ground for glossy leaves groundcovers that reflect light, naturalistic looking shrubs and perennials in large groups in the framework of regular discount and roads.
You can also add a water element but I would rather recommend a small sprinkler or fountain than a large pond. The large water surface area is indeed "like a mirror" – reflects the trees and the light but it is much more difficult to maintain. Sprinkler or even a small bowl of water overflowing introduces into the garden life both figuratively and literally, in the form of winged guests and small animals like dragonflies and hedgehogs.
A well-planned forest garden like any other requires a bit of work but also gives a lot of pleasure and fun. Relaxing under the crowns of your own trees is priceless. Old neglected building and garden will be revitalized. The task is not easy. Construction work will take place in very close proximity to valuable existing plants. We will try to keep as many of them as possible in good condition. This will require careful construction works.
---
---
You might also like